2019 Reserve Zinfandel 206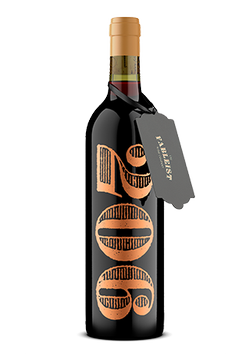 206 The SCORPION and the FROG
A Scorpion came across a great River during his travels, and asked a nearby Frog to ferry him across. "But how can I trust you won't sting me"? The Frog asked. "Because then I, too, would die," the Scorpion responded simply. Satisfied, the Frog allowed the Scorpion to board his back. As they approached the rushing streams, the Frog cried out in agony — he had been stung. Paralyzed, they both began to sink. "Why?" he croaked out. "I must, it is my nature," the Scorpion said, falling beneath the current.
One cannot escape their true nature.
Wine Specs
Appellation
Arroyo Grande Valley
Vineyard Designation
Old Portrero
Wine Profile
Tasting Notes
While tasting, look for blueberry compote, pencil lead and a hint of coconut.
Winemaker Notes
Since 2012, our core source for the Fableist Cab and Merlot has been the Hinterland vineyard in north Paso along the Salinas river bottom. The cab comes straight out of the vineyard on the sand and as the elevation rises we get more clay mixed into the soil. The family that planted the ranch in the early 90's nailed it on site selection. Cab on the sandier half to add finesse to the powerful Cab and Merlot on the upper more clay portion to bring power to the softer Merlot fruit. Typically, the Merlot and Cab from Hinterland will almost taste the same from year to year as the specific soil types bring things into harmony. We cherry picked our favorite 6 barrels of Merlot from the cellar which all happened to be 2nd fill American oak barrels. By being the second fill it keeps the oak character just subdued enough for perfect balance.
Other Notes
A selection of our favorite two barrels from our Old Potrero Zinfandel vineyard on the deep end of the Arroyo Grande Valley. The isolated Old Potrero vines are just a mere eight miles from the Pacific Ocean, yet almost a 45 minute drive from Highway 101. Most people can only see this vineyard while flying into the San Luis Obispo airport. The coastal location is a real gem and allows the grapes to maintain their natural acidity way better than those north of the Cuesta Grade. The bouquet is a big bowl of Comstock Cherry Pie filling, mixed with a bunch of shaved bittersweet chocolate and Nilla wafers. Super decadent with a pleasant lingering tannin and not too much heat. I would put this bottling up against the finest Zinfandels produced in the world. This will go fast. Drink it now or lay it down. You cannot go wrong.