Harvest Winemaker Dinner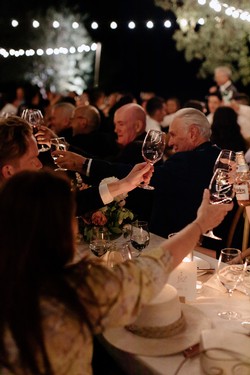 $200/ $160 Club Members
{Club members log in for your discount to apply}
We welcome you to an enchanting evening filled with spooky romance and exquisite wines at The Templeton Preserve Vineyards. Mark your calendars and be transported to a world of mystique and allure…
As the moon casts its dim light upon the sprawling vines, enjoy an unforgettable winemaker dinner that imbues our charming vineyard setting with the eerie ambiance of the season.
Join us for this hauntingly delightful event:
Date: October 13th
Time: 5:00 pm
Location: The Templeton Preserve
Address: 5036 South El Pomar Road Templeton
Flickering jack-o-lanterns lead you into the heart of the vineyard, where your table awaits, draped in black lace and adorned with softly glowing lanterns. Indulge your senses with a tantalizing menu curated by Chef Kean McCabe. Paired with our Reserve wines, each wine telling its own wistful tale, this will be a night to remember.
Between courses, explore the vineyard's hidden corners, where fortunetellers and mystics await to offer insights into the unknown. A visit to our ethereal candlelit graveyard will provide a moment of reflection and remembrance.
Prepare to be serenaded by the haunting melodies of a string quartet, capturing the essence of this romantic evening. The team of winemakers, dressed in elegant yet slightly sinister attire, will guide you through the wine selection, sharing their expertise and knowledge with you.
To secure your spot at this mesmerizing event, RSVP by October 1st to ensure we can accommodate your presence.
We look forward to welcoming you at the Harvest Winemaker Dinner at The Templeton Preserve, where passion and suspense merge under the bewitching moonlight. Come, join us on this extraordinary journey into the world of wine and enchantment. .
Hauntingly Yours,
The Team at The Fableist Wine Co.